Horseback Trail Riding (Year Round)
Horseback Riding all year long, weather permitting… Ride along the scenic Sydenham River, just west of London, Ontario or east of Sarnia, Ontario… Up hills, across creeks and through the cattle, depending on which trail you ride . Lots of deer and other wildlife.
For those of you who haven't been on a horse for sometime or not at all, don't worry, we have a horse for you. We love our western quarter horses…you know, the ones the cowboys rode! …and will fit you to the right horse.
Let us know…#1, if you have any experience or not, and #2, if you are up to 220lbs or so….that way when we go on out to the pasture in the morning to catch horses, we will know which ones to get!  Minimum age to Ride is 10 years old….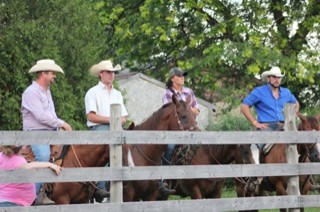 Please CALL us @ 519-247-3644 to Book your Date & Time!
  (or to Cancel a Ride)
1 Hour
$45 Per Person
Includes HST
Up to 6 People per Ride
1.5 Hours
$65 Per Person
Includes HST
Up to 6 People per Ride
Here's what our riders are saying…
Hello Mike, Fred and Texas Longhorn Ranch.  I was lucky enough to ride at your ranch yesterday with my friend. This email is to let you know that this was the best trail ride I have ever been on. Your place is lovely, the scenery, horses and people are great, and the hospitality that followed the ride was unexpected. It gave a sense of comfortable completion to an already good experience.   Wishing you continued success and prosperity.
Wendy