Adult 45+ Seasonal Camping
We Sell "Peace and Quiet" and Privacy!
Unwind…Exhale and Escape from your busy everyday life.  It's all about Peace & Quiet and getting 'Back to Nature'…. Your 'Home away from Home in the country". You can come out all year long!   Large Lots, well spaced and shaded! Your Seasonal Site includes Water and Sewer hookup as well as 30 amp electrical service. You have your own hydro meter which is read twice a year. Water is turned off November 1st for the winter.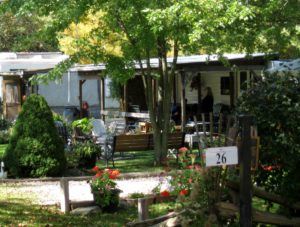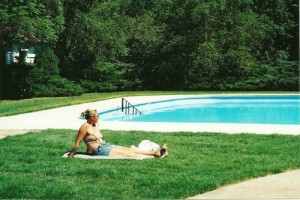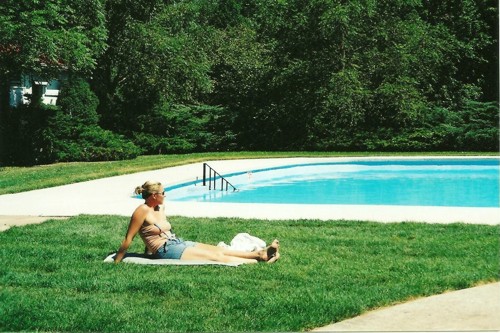 The first thing you will notice…We are different. We sell 'Peace & Quiet' & Privacy. Not a party atmosphere…No screaming kids, this is an adult only campground…We are small and it's not a numbers game, we want to share our beautiful place with others….We do have a few organized activities, if you want to participate. But basically we leave you alone to enjoy your little piece of the quiet countryside. And the magnificent sunsets!! Saturday morning there is a casual social coffee time and late Sunday morning Fred will take you on a weekly Ranch tour to check the cows! Our trails along the river are coming along quite nicely for you to go for a walk and check out the wildlife. There sure are some scenic spots. If you would like to canoe, ask Fred and he will 'hook you up'.
You may walk or bike on a private trail, or drive up to our 50×100 Texas size Pool at the front of the Ranch.  Enjoy a swim or sit by and read a favourite book. Listen to the water, the birds and the rustle of the wind.   A lot of our work is done with horses, so chances are you will see them go by on a Trailride or 'Millie the Mule' pulling a cart at some point most days. You may want to book a Trailride for yourself.
Your Seasonal Site goes from May 1st to October 31st And we do encourage you to come out in the off season at no extra charge.


plus HST & Hydro
Includes Water & Sewer
Hydro Meters are read twice a year, mid Season and end of Season.