Welcome! Texas Longhorn Ranch…
Unique  Guest Ranch B&B Getaway for Adults!                             … & Horseback Trail Riding!
We Open our Ranch for Guests … Wednesday to Saturday Nights … mid May the end of October!
Peace & Quiet! Unwind, Relax, be a little pampered and of course, Eat Well!
Enjoy a Couples Getaway, Ladies Retreat, Friends Escape or Cyclists Respite!  We love meeting Guests from all over the world. Many things keep visitors coming back…not the least of which is the Ranch's friendly hospitality.
*** We are a No Smoking Property! ***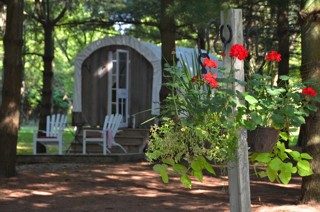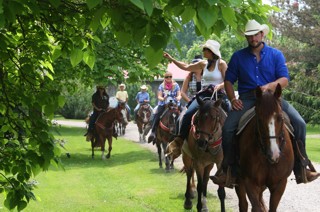 For those of you who just can't seem to stop long enough to take a breath … slow down, put your feet up … See the stars and fireflies … Listen to the birds and wake up to fresh coffee.
Our Texas Longhorn cattle and all the adventures we have had with them, and the people we have met along the way, have always been the heart of all we do, even now, when we are going a little less rustic and adding many more amenities to help pamper you during your stay. Fred's a cowboy (cowboy boots) & I'm a cottage girl (flip flops)! What a team we make!
We have gone from a rustic working cattle ranch … to running a Western Kids Camp for 20 years … and NOW to an ADULT Guest Ranch! (sometimes grownups enjoy a little time on their own!). We also have an Adult 45+ Seasonal Campground on the Ranch!…
… We are still a working Cattle Ranch! … with our oldest son, Stewart & family, taking over most of that part of the business, but we get to play and work cattle whenever we get the urge. We love visiting with our new Guests and telling a bit of our history. Whether you come for a stay in your very own private Covered Wagon or come out for a Trail Ride … you will be pleasantly surprised at the uniqueness of the Texas Longhorn Ranch.